Damning report into the Iraq war
'Military action was not a last resort': Chilcot finally releases Iraq War report (FULL SPEECH) 7/6/2016

The 2003 Iraq invasion and occupation left at least 500,000 dead, scattered refugees to the wind and threw the region into chaos. Yet as Sir John Chilcot delivers his long-delayed Iraq Inquiry report, the silence of Iraqis themselves is deafening.
He said other former soldiers he knows "feel anger that they were sent to a war not in defense of the country. A war of aggression for oil."
He also touched on another facet of the war, that of poor planning, saying that veterans were still embittered by the fact there was "no kit, no logistics, friends and comrades died due to kit."
"Even when there was a public outcry, they still didn't get it," he added.
The long-awaited findings of Sir John Chilcot's inquiry into the invasion of Iraq by Britain in 2003 were finally published on Wednesday July 6 2016

It has taken seven years, £10 million (US$ 13 million) and 2.6 million words to investigate whether it was right and necessary for the UK to invade Iraq, and whether the UK could and should have been better prepared for what followed.

'Military action was not a last resort'
Chilcot's forgotten witnesses – Britain's Iraqi diaspora (VIDEO)
Britain chose to join the invasion of Iraq in 2003 before peaceful options for disarmament had been exhausted, and military action was "not a last resort," the Chilcot Inquiry has found.

| | |
| --- | --- |
| "Being impeached would be worse for Blair than jail" | "It's like we're living in Nazi Germany" - protester on Blair |
The report says there was no imminent threat from Iraq's dictator Saddam Hussein in 2003.

"Intervention may have been needed at some point but in March 2003, there was no imminent threat from Saddam Hussein," Chilcot says.

The report says then-Prime Minister Tony Blair deliberately exaggerated the threat posed by the Iraqi regime as he sought to make the case for military action to MPs and the public. Blair had disregarded warnings about the potential consequences of military action and relied too heavily on his own beliefs, Chilcot says.

In July 2002, well over six months before the invasion of Iraq, Blair wrote to then-US President George Bush promising him that the UK would be there with him "whatever," Chilcot says.

He says Britain should not have gone along with US wishes when they did not necessarily match its own.

"The UK's relationship with the US has proved strong enough over time to bear the weight of honest disagreement. It does not require unconditional support where our interests or judgements differ."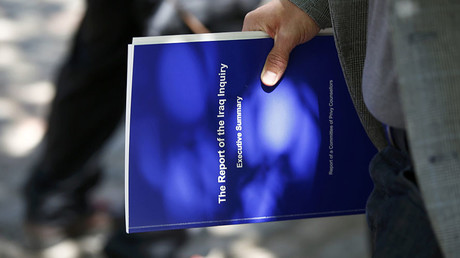 British government 'undermined authority' of security council
Blair urged Bush to take the issue of Iraq to the UN in 2002, Chilcot says.

Resolution 1441 was adopted by the UN Security Council, which provided for any breaches by Iraq to be reported to the council. But in December 2002, Bush decided UN weapons inspectors would not achieve the desired result.

Bush agreed to push for a second UN resolution, but by March 12, 2003, it was clear there was no security council support for this. Most members of the security council at the UN could not be convinced that peaceful actions had been exhausted.

Blair accepted a US military timetable for action by mid-March 2003, the report said, while at the same time publicly blaming France for failing to support a second UN resolution in the security council authorizing military action.

"Mr Blair and Mr Straw [the former foreign secretary] blamed France for the 'impasse' in the UN and claimed that the UK government was acting on behalf of the international community to uphold the authority of the security council," Chilcot says.

"In the absence of a majority in support of military action, we consider that the UK was, in fact, undermining the security council's authority."

Weapons of Mass Destruction presented 'with a certainty that was not justified'
Chilcot says the severity of the threat posed by Iraq's weapons of mass destruction were "presented with a certainty that was not justified."

By March 2003, Attorney General Lord Goldsmith, the government's most senior legal adviser, said there was on balance a secure basis for military action without a second UN resolution, according to Chilcot.

Goldsmith asked Blair to confirm that Iraq had committed further material breaches as per 1441, the first UN resolution, and Blair did so the next day.

However, the precise terms on which he did so "are not clear," says Chilcot.

Chilcot says it is now clear that policy on Iraq was made "on the basis of flawed intelligence and assessments. They were not challenged and they should have been."

He says this was one of several cases in which a crucial issue should have been considered by Cabinet, but wasn't.

Chilcot says the inquiry has not expressed a view on whether military action was legal, as that must be resolved by a properly constituted and internationally recognized court.

"We have, however, concluded that the circumstances in which it was decided there was a legal basis for UK military action were far from satisfactory."

UK forces were ill-prepared
Chilcot has called the war a "failure," saying the UK's military involvement in Iraq ended with the "humiliating decision" to strike deals with enemy militias because British forces were seriously ill-equipped.

The inquiry has found British forces lacked essential equipment such as armored patrol vehicles and helicopters.

The Ministry of Defence planned the invasion in a rush and was slow to react to security threats on the ground, particularly the use of IEDs that killed so many troops, the report says.

Chilcot says "the government failed to achieve its stated objectives."

Post-war planning: Blair should have known what might happen
Blair may face misconduct claim from families of soldiers killed in Iraq
Chilcot says plans for Iraq after Saddam Hussein were inadequate.

"Despite explicit warnings, the consequences of the invasion were under-estimated. The planning and preparations for Iraq after Saddam Hussein were wholly inadequate," Chilcot says.

He says Blair should have anticipated the post-invasion problems.

"Mr Blair told the inquiry that the difficulties encountered in Iraq after the invasion could not have been known in advance.

"We do not agree that hindsight is required. The risks of internal strife in Iraq, active Iranian pursuit of its interests, regional instability, and Al-Qaeda activity in Iraq, were each explicitly identified before the invasion."

Chilcot says Blair also overlooked the threat the invasion would pose to Britain.
'Betrayal': Iraq veterans call for Blair's indictment after Chilcot report
Veterans of the conflicts in Iraq and Afghanistan are calling for Labour leader Jeremy Corbyn to indict former Prime Minister Tony Blair for war crimes. They spoke to RT about their sense of "betrayal" over the Blair-era Iraq War.
At the Westminster rally to mark the publication of Sir John Chilcot's report, after a seven-year investigation into the 2003 Iraq conflict, military veterans told RT of their disgust at the circumstances surrounding the war.
Dan Taylor, 28, served in Iraq in the artillery. He is now a member of Veterans for Peace, a growing group of ex-services anti-war campaigners.

After reading aloud from the platform the names of five Iraqis and five UK soldiers killed in the war, Taylor told RT: "I think Corbyn will indict [Blair] and he needs to. The question is, is there support behind him to do it?"
He also said the Chilcot report must now be "torn to pieces. We need to look at what isn't said. I suspect it will be heavily redacted and it has taken far too long."

Taylor also said the recent row in the Labour Party between leader and long-time Iraq War opponent Jeremy Corbyn and the self-proclaimed 'moderate' wing of the party was "a last-ditch attempt to save their skin. Their ship sinks with Blair. It will be the final nail in a very sick coffin."

One veteran took to the stage to address the crowd, telling them the lowest ranking soldier to sit before the Chilcot Inquiry was a general. He lamented that not a single serviceman or woman who actually fought the war had been called to give evidence.

RT spoke to another veteran named James, formerly of the Royal Gloucestershire, Berkshire and Wiltshire Regiment (RGBW).

"Betrayal," he said, when asked how the veteran community feel about Iraq and Chilcot.
He said the way forward is "naming and indicting those responsible, in the administration, the lawyers, the judiciary."

The veteran also said it is critical to find out "who they are, why they did it, why they ignored the public, the UN inspectors, the evidence."
The 2003 Iraq invasion and occupation left at least 500,000 dead, scattered refugees to the wind and threw the region into chaos. Yet as Sir John Chilcot delivers his long-delayed Iraq Inquiry report, the silence of Iraqis themselves is deafening.
Chilcot Inquiry
"If the United Nations said themselves Iraq can't import enriched baby powder milk, ambulances and tampons, how was Iraq going to pose a threat to the sovereignty of the United Kingdom?" asks Hussein Al-alak, the Manchester-based editor of Iraq Solidarity News (Al-Thawra).

Hussein isn't alone in doubting Tony Blair's case for war, based as it was on claims of an imminent threat to the realm posed by Iraq's elusive weapons of mass destruction (WMDs).

Launched in 2009 to examine the road to war, the invasion and its aftermath, the 2.6 million-word Chilcot report has cost the UK taxpayer roughly £10 million (US$13 million).
Shedding light on how British foreign policy blundered into the war, and with the intention of stopping similar misadventures being repeated (Libya excluded), Sir John's report may also issue some kind of verdict on the invasion's legality.

If the families of the 179 servicemen and women killed in Iraq appear skeptical about finding closure in Chilcot's tome, Britain's tens of thousands of Iraqi exiles must be utterly incredulous at their own apparent exclusion in this official history of their nation's tragedy.

Ahead of the July 6 publication, RT reached out to Britain's Iraqi diaspora to hear their views on the war and expectations of the report.

"Saddam [Hussein], in my opinion, is a system that will never be repeated in history. It's a state of fear," says Emad Al-Ebadi, Director of the Iraqi Welfare Association (IWA), based in Wembley, north London. Emad says he came to the UK in the late 1970s as a student. His family urged him not to return to Iraq, however, as the vicious and protracted war with Iran took hold.
He is among a generation of Iraqis who were unable to return to Saddam's Iraq, fleeing war, sanctions and persecution. As a Shia Muslim, Emad's community faced particular cruelty under the regime.

Asked whether it was therefore right for Britain and America to topple Saddam in 2003, Emad laments the price Iraqis have paid for their so-called liberation.

"This is a question I've been asked many times. It's very difficult a question, because yes the intervention was needed, because there was no other way of getting rid of that man. [But] the way it was done, we don't agree with it. We paid a high price, and we're still paying a high price. For several reasons.

"I think the first thing, the West is not genuine. It is not about human rights and Iraqis and things like that. They didn't do it for that reason. America did it because they are a cowboy state.

"The British, Tony Blair and that lot, they're a puppet to the Americans. Whatever they order them to do they agree to it and they do it."

Shia Iraqis like Emad are not the only ethnic group to suffer under Saddam.

Miran Hassan, Director of the Kurdish Culture Centre (KCC) based in Kennington, south London, came to the UK in 1999 as a child refugee with his mother. His father was a conscript in the Iraqi Army who fled to Italy. Any Kurd who dodged conscription under the Saddam regime risked execution and their families were made to suffer. Sanctuary therefore was sought in Britain.

Measuring Saddam's ruthlessness on body count alone, Miran compares the crimes of Islamic State (IS, formerly ISIS/ISIL) to the Baathist slaughter of Kurds.
"If my numbers are correct, ISIS, during 2015, killed just over 2,000 people in Syria. Saddam in a matter of minutes killed 6,000 Kurds from the largest chemical attack in history, in Halabja.

"Over the period of the Anfal campaign he killed nearly 200,000 Kurds … We're still digging up mass graves to this day because of Saddam."

Miran takes a harder line in support of the West's removal of Saddam, but his tone betrays a deep sense of bitterness at the perceived abandonment of Kurdish and Shia rebels fighting the Baathists in 1991 at Washington's behest.

"I think it was definitely right to topple Saddam and intervene. However, I think it was done too late. It should have been done in '91. The First Gulf War. That was when the people were rising up all over Iraq, because of what George Bush Sr. said – rise up against the regime. We did that. The Shias did that. The Kurds did that. Every oppressed people in Iraq did that. However, the betrayal we received led to the regime solidifying their grip over Iraq."

Hussein Al-alak is less forgiving of the British-American intervention. The Iraq Solidarity News (Al-Thawra) editor, whose mother is British and father Iraqi, believes the invasion opened a Pandora's Box of sectarianism and ripened the conditions for the rise of Islamic State.

"Was it right for Britain and America to remove Saddam Hussein? No, it was not. And that is from a kind of policy perspective, because what we now have seen is an Iranian controlled regime, what we have seen is sectarianism on a scale that's never existed inside of Iraq … and what we've also seen now is the destruction of the Iraqi state as a 21st century state apparatus.

"I would go so far as to say there was no post-war planning inside of Iraq from either Britain or America … When you invade a country, the first thing you don't do is disband the state, you do not tell the army and you do not tell the police force that you're all out of jobs. You don't go and tell 24 million people that because you've lived under a one party state for 35 years that you're all being made redundant, you don't have jobs to go to and that we are the ones now in charge.

"When you go into a country and you impose that type of regime, which Britain and America did after 2003, you galvanize an entire country against you and it ends up in violence and chaos."

Does bad planning constitute a war crime? Emad believes Britain and America's culpability runs deeper than the mere failure to plan effectively for a post-Baathist era. For him, 'shock and awe' and 'mission accomplished' are bywords for state terrorism, perpetrated against the Iraqi people. Asked whether Chilcot is likely to draw the same conclusions, Emad holds out little hope for justice.

"I do not expect any benefit to Iraq, that's certain," Emad shrugs. "I don't expect anyone will be prosecuted. I don't think there will be any confirmation of war crimes. I mean, it is a war crime when you go and bomb a country, whatever it is, wherever it is. It's a war crime. It's state terrorism.
"When you send airplanes, and we all watch it live on TV, it's like Star Wars films. We've seen it live, this is our people we talk about. We're not talking about films in Hollywood. I was watching all night this bombing of innocent people … They come back very happy [saying] they accomplished their mission. What's the mission? Killing innocent people … But there is no justice in the world. Who's going to punish them? The United Nations?"

Hussein is less emotive in his appraisal, but no less scathing. In his view, unless convincing evidence of weapons of mass destruction is presented, and the 45-minute threat touted by Blair substantiated, Britain's war on Iraq can be reasonably considered a war of aggression.

"The first question one needs to ask if the situation in Iraq was carried out either legally or illegally is did it have a UN mandate? No, it did not. Secondly … was it a war of aggression or a war of defense? If it's a war of aggression, that means Britain acted as the aggressor, therefore the actions were unprovoked. If it was a war of defense, it means Britain felt threatened and Iraq posed an immediate threat to the sovereignty and the integrity of the United Kingdom.

"We were told there were weapons of mass destruction that could be set off in 45 minutes. Iraq under the sanctions was not allowed to import bleach, it wasn't allowed to import pencils because pencils contained graphite. It wasn't allowed to import pipelines to facilitate the flow of water. So if Iraq wasn't able to import three items like that … how was Iraq going to pose a threat to the sovereignty of the United Kingdom?"

Even if Chilcot fails to identify anything legally constituting a war crime, in which case it will be widely considered a whitewash, will Britain at the very least draw lessons from the Iraq debacle? Miran says history has a nasty habit of repeating itself.
"Are we really going to get closure out of a report, over a decade later? When we're still making the same mistakes in the region? We're treating every problem the same. There's a saying: if all you have is a hammer, every problem looks like a nail. And that is exactly what we're seeing right now. So I do hope we learn from the report. But do I think we will? I don't think so."

Decades of war have built a level of emotional resilience among Iraqis that is hard for British observers to fathom. Emad is hopeful that a new generation of Iraqi millennials is emerging with a renewed commitment to a united national identity. He therefore saves his final thoughts for the architects of British and American foreign policy.

"I would say, the Western powers should not interfere in 'Third World' countries' politics … If that is stopped, we, everyone, will live on a better, peaceful planet."
British spies gave faulty intelligence on Iraq, then quietly withdrew it - Chilcot
The Chilcot report into Britain's invasion of Iraq is highly critical of the UK intelligence services, saying it provided "flawed" information about Saddam Hussein's alleged weapons of mass destruction (WMD).
In his damning report on the Iraq war, released on Wednesday, Sir John Chilcot slams security agencies such as MI6 over major errors in their intelligence gathering and assessments.

Chilcot says it worked on the "misguided assumption" that Saddam had WMD - a threat which turned out to be non-existent and was the basis for war - and made no effort to investigate otherwise.
"At no stage was the proposition that Iraq might no longer have chemical, biological or nuclear weapons or programmes identified and examined by either the joint intelligence committee (JIC) or the policy community," the report says.

In September 2002, MI6 reported it was on the edge of a "significant breakthrough" after finding a new source inside Iraq with "phenomenal access" to information about WMDs.

The source, which said Iraq had accelerated production of chemical and biological weapons, was later described in MI6 notes as having been lying to SIS over a period of time.

However, the reports were used to provide assurance in drawing up a 2002 dossier preparing the case for war. Reports from that agent were still being reissued in April 2003.

According to the Chilcot report, MI6 "did not inform No 10 or others that the source who had provided the reporting issued on 11 and 23 September 2002, about production of chemical and biological agent, had been lying to SIS."

In July 2003, the reports were officially withdrawn, but in a "low key manner compared with the way in which the original intelligence was issued."
Blair was not originally told the source's information had been withdrawn.

The Chilcot report is highly critical of Sir John Scarlett, the chairman of the JIC, and the then MI6 chief, Sir Richard Dearlove.

Chilcot says Scarlett is to blame for failing to ensure the assessments of the intelligence community were properly reflected.

Chilcot says intelligence services got some assessments correct, which were largely ignored by Blair.

They included that while Saddam had the potential to proliferate WMDs to Islamic terrorists, he was unlikely to do so. Furthermore, Iraq was likely only to mount a terrorist attack in response to military action and if the existence of the regime was threatened.

The intelligence community also assessed it would take Saddam four to five years to acquire enough fissile material to build a nuclear weapon, but the Blair dossier claimed it could be achieved within a year or two.

The report says Blair presented assessments by the spy agencies to parliament with a "certainty that was not justified" by the intelligence that had been gathered.

The report says "the flaws in the construct and intelligence were exposed after the conflict."